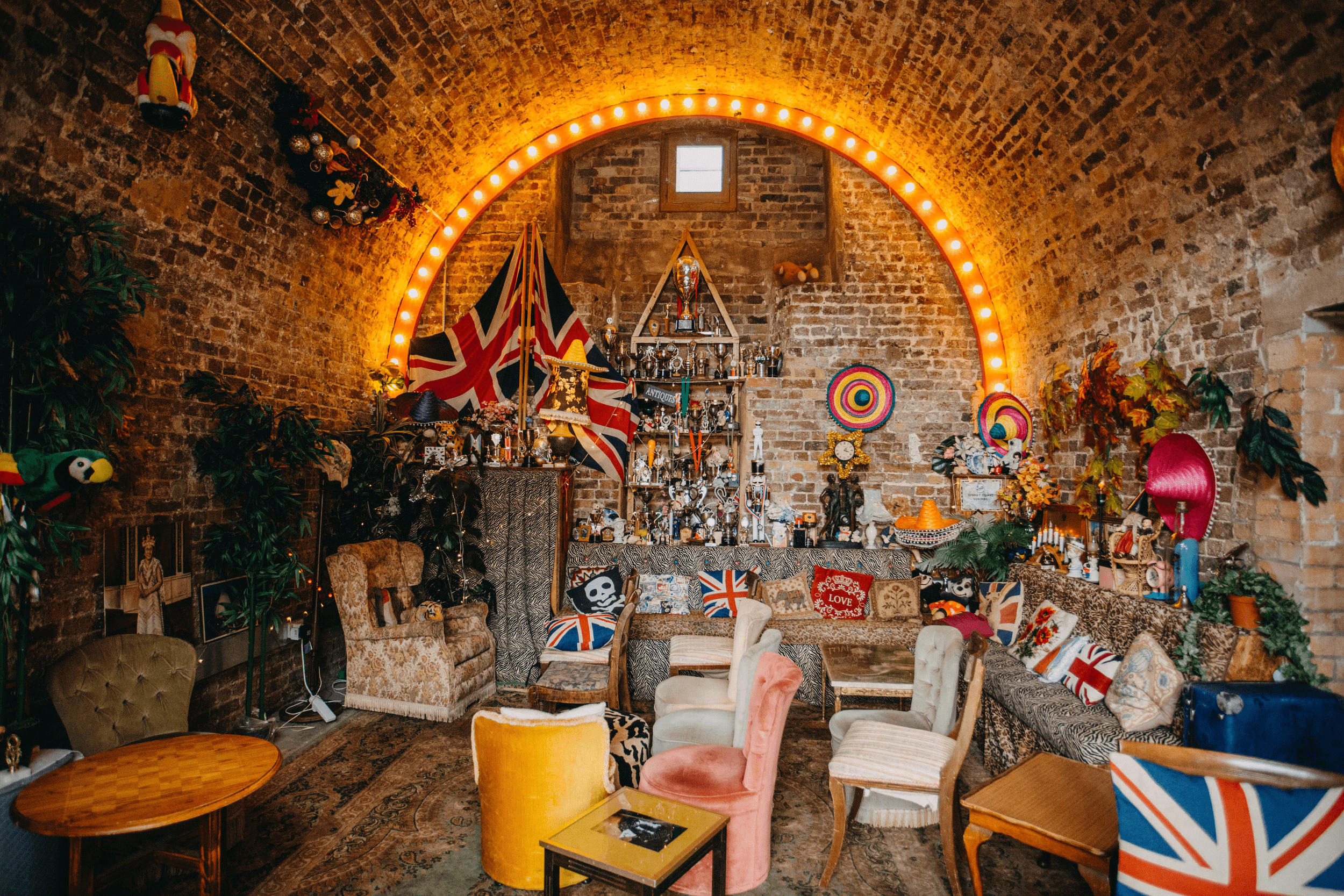 Little Nans Deptford: Award winning vintage cocktail bar
Ever heard of a bar that sells over 90 different cocktails? Well, that's exactly what you'll find at Little Nan's Catford along with some delicious old school food and a buzzing atmosphere.
Little Nan's is a retro style bar situated under one of the railway arches at the Deptford Market Yard, the vintage bar is kitted out with leopard print mugs and cat covered cushions in full Pat Butcher style, you won't find another bar like it! If you want a sneak peek of the unique decor before visiting, the bar now has an Instagram and Facebook account dedicated to the interiors and DIY. You can find their accounts @nan_about_the_house on Instagram and @nanaboutthehouse on Facebook.
If the venue itself wasn't crazy enough wait until you see their incredible Eastenders inspired menus! You can take your pick from their sarnie selection, perhaps the Uncle Albert's fish finger sarnie? A classic. Or maybe a disco fries butty? A dish consisting of fries shaken in their famous spiced disco dust topped with melted mature cheddar, mozzarella, brie, and onion rings. There's plenty of options to choose from.
Afternoon tea lovers are in for a treat at this London bar with a very special high tea menu created from Little Nan's secret vintage family recipes. For £30 you can indulge in some baked scones, mini pastries, cakes, seasonal treats, and a selection of finger sandwiches. You also have the option for a boozy brunch for an additional £5 which greets you with half a teapot of cocktail per person!
There is nothing better than a mid-week deal, on Tuesdays Little Nan's have a couple of deals which might tempt you to an after-work drink. 2 for 1 cocktails and pints for just £4.50 and better still the offer runs all the way to 11pm!
Along with all the positive customer reviews, Little Nan's has been awarded the best bar in multiple articles including:
Best Quirky London Bars & Pubs - TimeOut 2020
Best Dog Friendly Afternoon Tea's in London - The Dog Vine - 2019
Best Bars in London - Time Out - July 2019
Best Kitsch Bars in London - Design my Night - August 2019
Best Bars in the UK - Grazia - 2019
If you're planning on making a visit, here are all the details below-
Opening hours:
Monday - Thursday: 3PM- 11PM
Friday & Saturday: 12PM - 11PM
Sunday: 12PM - 11PM
Find them at: Arches 13-15 Deptford Market Yard SE8 4BX (Right next to Deptford High Street train station, you can't miss them!)
For more information visit their website